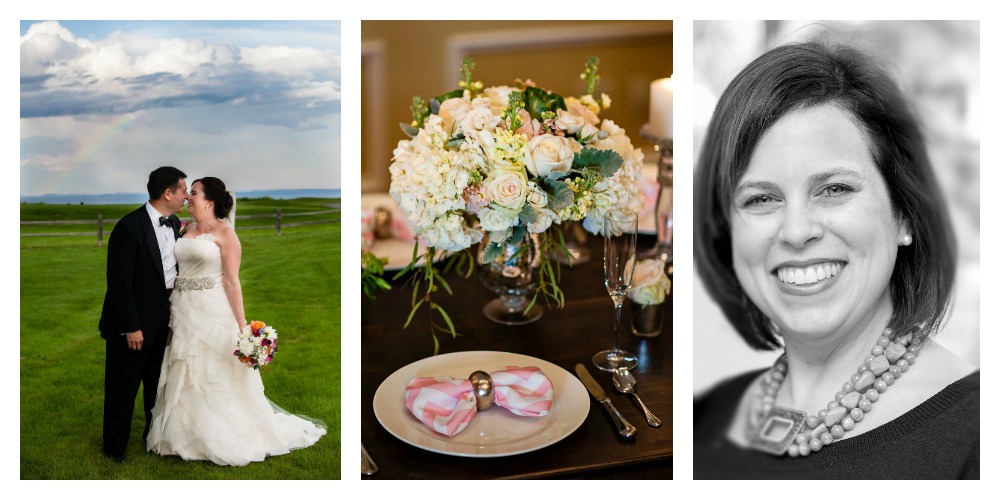 [Photos (left +center) Melissa Mullen Photography]
Describe the range of services you offer.
We are a full-scale boutique wedding planning and design company offering an array of services tailored to fit our client's specific wants and needs. Whether it's month-of coordination, floral design, planning from start to finish, or somewhere in between, we are as involved in the event as we've been invited to be. With our full service planning and coordination abilities, we work together with our clients to conceptualize the wedding and design. We'll happily and efficiently call and negotiate with all wedding vendors, orchestrate the rehearsal and wedding day, welcome your guests, and be the last ones on-site long after everyone's departed. All of this with a touch of our signature southern charm.
What is one thing you would say makes your business unique in the wedding industry?
My training and work experience as a licensed clinical professional counselor (psychotherapist), I believe provides me with a skill set that sets me apart.
What do you love about barn weddings?
What I love about a barn wedding is that it's an opportunity to work with a blank canvas. In what is usually a breathtaking setting with green pastures, rolling hills, and an openness as far as the eye can see, covered in lush foliage and wild flowers, it creates a setting that says love happens here. The architecture of a barn can be just as dreamy with it's natural character and rustic charm that can be dressed and adorned to convey any wedding style from a formal fete with chandeliers hung from the rafters and elevated decor to a more pastoral setting embracing the nature that abounds. We've discovered, there is something about a barn and the land that puts wedding guests at ease. No barn is the same; therefore there is a barn out there for everyone. This is why we love barn weddings!

How far in advance do couples book you for their wedding?
Most couples reach out to us 12 to 18 months before their wedding. Although, recently, the couples we've been working with are interested in shorter engagements and are wanting to plan a wedding in 6 to 8 months. They're looking to us for our guidance and expertise as well as our vendor relationships to pull their vision together.
How can couples get in touch with you?
We can be reached by phone and text at 207.975.5288 or email kristen@beehivecreativeevents.com. Be sure to follow us on Facebook or Instagram @beehivecreative.
Any additional information you would like to add please provide here.
To ensure the highest standard of quality, we only accept six wedding per year. It's important that we provide our clients with the utmost attention and care, therefore weddings are booked two weeks apart. This assures my presence and involvement with every wedding and gives our clients comfort knowing there will never be another event on the same weekend.