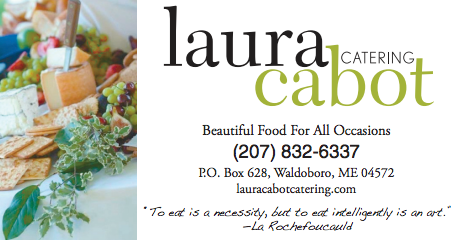 Beech Hill Barn: What is your name & the name of your business?
Laura Cabot DBA, Laura Cabot Inc. and Laura Cabot Catering
Beech Hill Barn: Describe the range of services you offer.
We offer fully staffed and serviced events offering full liquor services, with options. We've catered every type of event you can imagine ( can you believe a vasectomy party?) from casual barbecues and family reunions or garden parties, to provisioning and launching yachts, or rustic, seasonally driven farm suppers to elaborate and elegant, multi-course plated meals with wine pairings. Family style service is also an option. Picking up specially prepared menus,with out service staff, is a less expensive option that's gaining in popularity. We've served romantic "pop the question" dinners for two to rehearsal dinners for 50 to weddings across Maine for 300 to open houses for 800! This year we've added "Day Of" services to our menu of offerings.
Beech Hill Barn: What is one thing you would say makes your business unique in the wedding industry?
There are several…I can only think of one other catering company in Maine that's been in business for 32 years. We're always continuing our education to stay informed and relevant, studying, traveling and eating across borders, keeping on trend. Another is our commitment to not wasting food, keeping the footprint small and to sourcing ingredients as sustainably and locally as possible. We compost at every event and carry a line of compostable dinnerware as an option. We cultivate relationships with our farmers, artisan makers and other wedding vendors. We recognize the amazing bounty that Maine offers. I have an on staff forager. Our staff are very well trained, neat, courteous and well spoken. We understand wine, craft beer and interesting non alcoholic options.
Beech Hill Barn: What do you love about barn weddings?
We love wood. I never thought about it until I moved to Maine myself! We love the luxury of the space, the proportions of the building and the light. We can really play off the rustic nature of a barn. It brings so much character to the event. We also love being a part of supporting and using new or heritage barns. It's the ultimate "re-purposing"
Beech Hill Barn: How far in advance do couples book you for their wedding?
Generally one to two years in advance, although we've had one appear recently that got done in a month. We didn't ask.
Beech Hill Barn: How can couples get in touch with you?
We have a mobile site and a regular web site. One cell number and three land lines, so it's easy to find us. Both sites offer an easy to navigate "event form" that can be emailed. As a member of Maine Wedding Vendors, we try to refer one another as well. We use all forms of social media as a way for couples to better understand our visual language, background, style and principles.