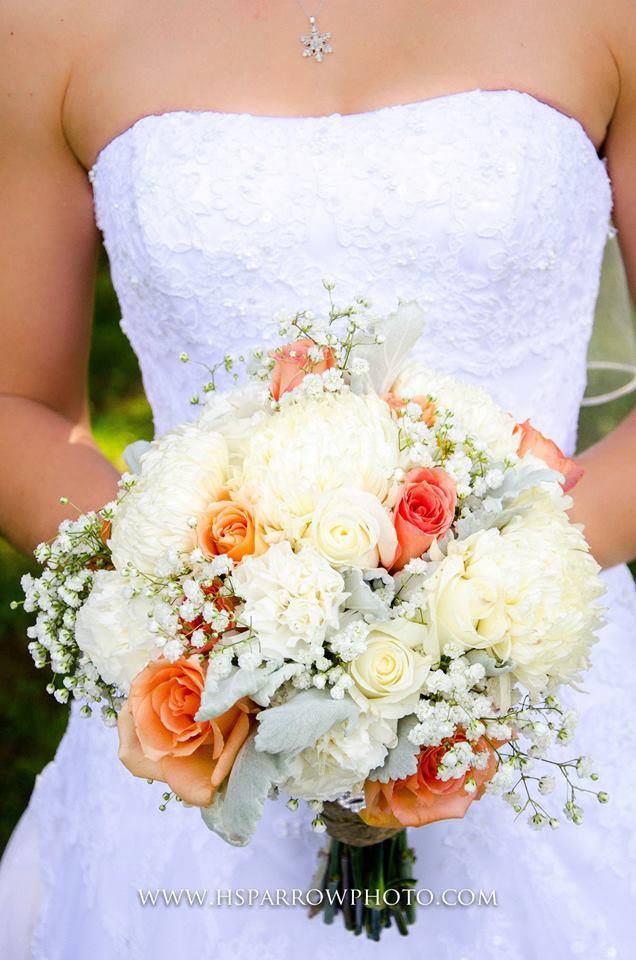 Abby Snow, of Abbymadeitforme, is a floral designer who will complete the design of your day with her petal creations.
Describe the range of services you offer.
Floral bouquets and arrangements, as well as day-of-coordination.
What is one thing you would say makes your business unique in the wedding industry?
For me personally, I pride myself on being frugal but still having nice things–this is something that carries through to my business. I first hand understand the desire to keep a wedding beautiful, yet budget friendly. I work closely with the couple to make sure they are getting what they want within their budget. I am a fairly new business and over time I have learned that although some clients come to me with no budget in mind, it is best to set a realistic standard and create from there! I would say that is what sets me apart in the wedding industry–an industry where just the word 'wedding' can mean 'money'–I respect the boundaries my clients set and do my best to make their vision come true on a budget.
What do you love about barn weddings?
Although its cliche, I can honestly say I grew up in a barn. I see these beautiful wedding barns and the equestrian in me cant help but think "Man! I just want to hop on my horse here and ride!" For me personally, a barn is so much more than just a home for horses, or a wedding venue, it has an intimacy, a beauty and a simplicity that just cant be matched. Barn weddings seem like the most normal thing to me. Its the setting where I first fell in love (with horses), where my husband proposed to me, where some of my best memories have been made and where some of the most beautiful weddings I've seen have taken place. I love barn weddings because they are laid back, cozy, simple and beautiful!
How far in advance do couples book you for their wedding?
I would prefer to have a minimum for 3-4 months notice, especially if there are arrangements to be set up on the wedding day (Saturday). However, if you are in a bind I do still have some dates open for 2016, I'd just need approximately 4-5 weeks notice. I don't have a store front, I work on bookings only–so if I have the date open I'd need this notice to determine a 'floral recipe', clear it with the couple, and place an order.
How can couples get in touch with you?
Facebook has become my most normal form of communication. I also have an email (abbymadeitforme@gmail.com) that I use. My preferred method of working is to begin by e-mailing/messaging to get the ball rolling (sending themes/inspiration pics/number of pieces/etc.) I will then make a quote and meet the couple in person. If the quote is acceptable, I require a 10% deposit to reserve the wedding date.