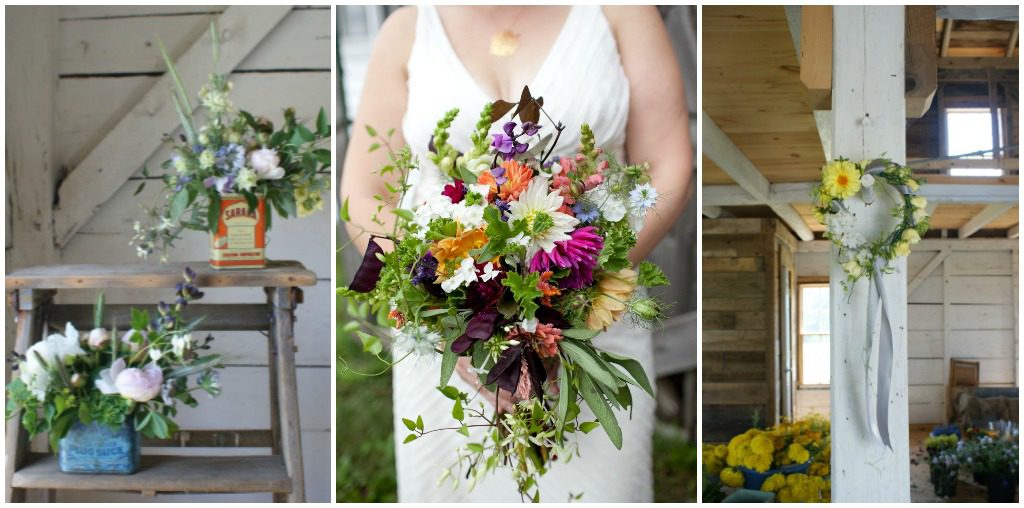 Broadturn Farm
[Photo, center: Stacey Hedman]
Describe the range of services you offer.
We are an organic farm and specialize in floral design produced with farmed and foraged goods.
What is one thing you would say makes your business unique in the wedding industry?
95% of the time we grow or gather our raw products.

What do you love about barn weddings?
We love the atmosphere. There is something uniquely beautiful about the lighting and wood textures in a barn.

How far in advance do couples book you for their wedding?
Anywhere from a year in advance, to a week!

How can couples get in touch with you?
Contact Stacy Brenner by telephone at 207.233.1178 or via email at mrs.lemonburger@gmail.com.
Any additional information you would like to add please provide here.
We love building relationships with our clients and walking through the process of planning for their wedding. The ritual of the wedding is special to all of us at Broadturn Farm. We love big moments! And, we love striving to make the wedding industry greener and more local with each event we're apart of. And, more than anything, we love for our couples to take a walk in Maine on the anniversary of their wedding, years later, and see something blooming that was in their bouquet or their boutonniere. Flowers, ephemeral as can be, but they forever evoke memory and are a special part of the ritual of the wedding.